After Meghan Markle started dating Prince Harry in 2016, she quickly became a media darling. Since that moment there's has been a close eye on everything from her acting projects to her fashion sense. And now that she is officially the Duchess of Sussex, she will continue to be on everyone's radar.
Markle has been relatively consistent with the way she presents herself to the public. It seems she's mastered the art of looking natural yet still phenomenal. As a result, she has become a global fashion icon to look up to, most notably for her outfits and hairstyles.
Fashion Feeds is known to bring you the latest in hair inspo, and today, the spotlight is on the fab hairstyles of the new royal. Let's take a look at all of her chic choices throughout the years.
2012: Voluminous Curls
There was an era when big waves were all the rage, and Markle was in on this as well. Although Big W News notes that she may have been wearing hair extensions, the look wasn't far from the original length of her hair now. Although, it's not the sort of hairstyle people are used to seeing her wear nowadays. Instead of the hyper volume shown here, she has opted for something more relaxed. Her hair is also now pitch black instead of shiny brown.
Wearing hair extensions could be a great idea for people who have short hair and want to don this look. It's temporary and looks realistic, so after you rock the style, you can go ahead and embrace your short locks again. After all, the beauty with short hair is being able to play around with it!
2014: Face-framing Layers
Want to imagine what Markle would look like with short hair? Harper's Bazaar took notice of Markle's face-framing layers worn as loose tendrils back in 2014. It showcased her effortless beauty long before her hair and fashion choices were so heavily scrutinized internationally.
2016: Side-swept Waves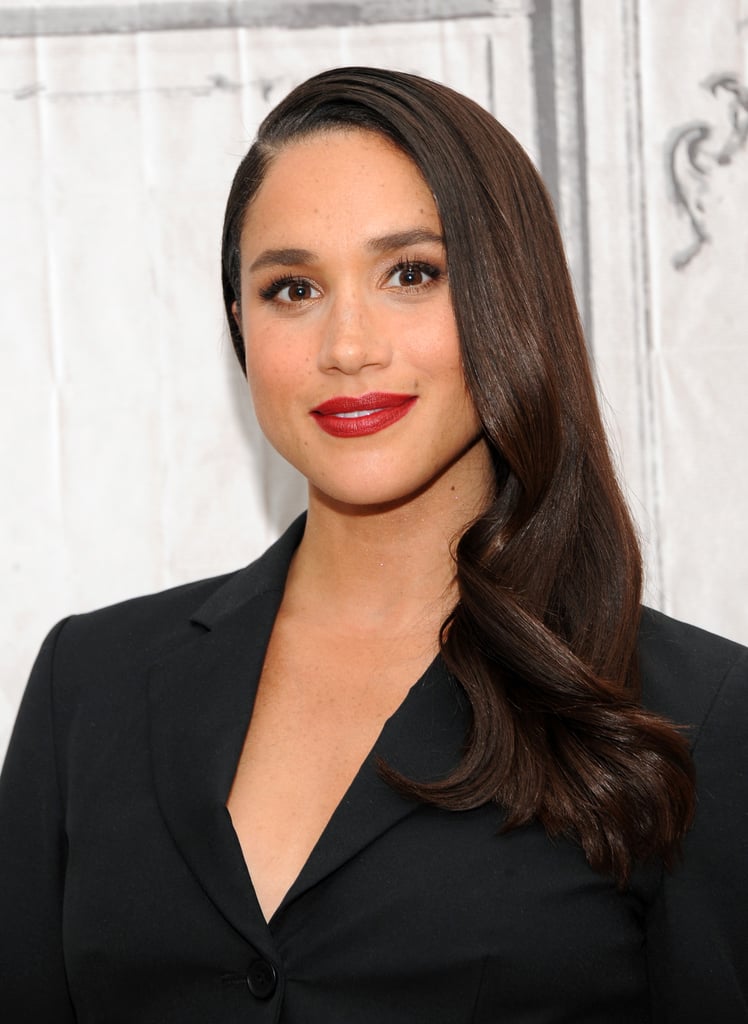 This is one of Markle's more iconic red carpet looks: side-swept waves paired with a bold lip. Pop Sugar dubbed the style one of her best hair moments of all time, as it's very polished, and left her looking very, well, regal.
It's not impossible to recreate Markle's go-to style if you have shorter locks either. As you blow dry your hair, get a round brush and pull on the roots to straighten it. Then, curl it inwards towards the ends to achieve the waves.
2017: The Holiday Blowout
Sleek and shiny locks are the new royal's trademark. Entertainment Daily shared snaps of Markle attending the Christmas Dinner that the Queen hosts every year. She decided to wear her hair down and finished off her look with a delicate lace top and a pair of diamond earrings.
While it may seem easy to pull off, you may still need the help of heating tools and products to ensure a frizz-free updo. This is especially challenging for women with wavy or curly hair. Markle is no a stranger to this struggle, but still manages to keep her hair straight yet voluminous by regularly having a blowout. This is what created her signature hairstyle from all those years ago!
2018: The Royal Bun
Markle is often spotted wearing her hair down, but when she does fix it up she usually goes for a chignon. Everyone saw her debut the look during her first public appearance this year with Prince Harry, and it looked gorgeous. But what she did for her wedding was just as divine.
Marie Claire celebrated Markle's wedding day hairstyle, which they described as a low, twisted-and-pinned updo. Her long veil and tiara stole the show, but everyone still zeroed in on how effortless her mane rested on her head. It was no-nonsense yet still gorgeous; short face-framing tendrils were split down in the middle for a center-parted finish.
Buns are really classy and can be pulled off by most women with medium hairstyles. All you need are pins and a bit of setting spray to make sure that your hair won't be all over the place. Beware of fixing it up too much because the trick is to make it look natural!